Ski Hire in Serre Chevalier. Ski Hire with Ski Connections
SKI CONNECTIONS - SERRE CHEVALIER - HOME
Save 20% to 50% on all our ski hire in Serre Chevalier. Booking Serre Chevalier ski hire equipment through us online is practical, easy and cheap.
HOME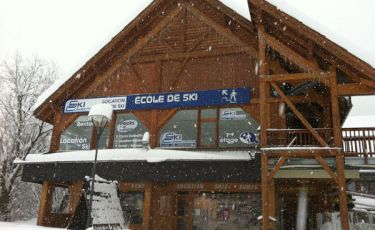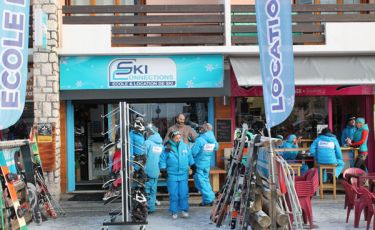 Ski Hire Serre Chevalier. Ski Connections Shop. Snowboard & ski rental online
Welcome to Ski Connections, a one stop shop for all your Serre Chevalier ski hire and snowboard rental needs.
Ski Connections is not only a ski rental shop in Serre Chevalier1400 (Villeneuve), but it is also a Ski and Snowboard School.
Our team of 3 Serre Chevalier Ski Hire Technicians and 20 instructors are here to help. They will provide you with a sound and professional service for your ski equipment rental needs in Serre Chevalier.
Our promise to you is not only to provide you with skis that have been perfectly serviced, but to help you choose the skis you need for your ability level and skiing style. This service provides you with excellent value for money, as you do not spend money or time with equipment not suited to your needs.
Book directly with Ski Connections online and save from 20% to 50% on your snowboard and ski hire in Serre Chevalier.
WHY BOOK ONLINE WITH SKI CONNECTIONS?
It's cheaper:
20% to 50% discount on online bookings.
An extra 5% off if your booking is over 300 €.


Professional Service:
A team of 3 ski technicians and 20 ski instructors at your disposal to advise you in your choices.
Quality Serre Chevalier ski hire equipment well maintained by us and in our workshop.
Shoes systematically dried and disinfected.


It's practical :
Select and book your snowboard or ski hire in Serre Chevalier in advance.
Get your equipment when you arrive in the resort.
Only 10% deposit on booking.

YOU CAN ALSO SAVE ON YOUR SKI LESSONS
With Ski Connections Serre Chevalier Ski School

ADVANTAGES SKI CONNECTIONS

Discounts up to 50%
Book online and get up to 50% discount on your ski rental.

Discount -10% extra!
Enjoy 10% extra discount with promo code: EARLY2024

The 7th day is free!
Don't hesitate to come and hire your equipment on Saturday morning or to have an extra day's skiing: the 7th day is FREE!

Reduction -5%
For all hires above 300 euros: +5% discount

Already customer ?
An extra 5% off if you are already a customer of the ski shop or the ski school.

Free car parking...
Our shop is located within the Pré Long commercial center, in the heart of Serre Chevalier, next to the tourist information office and right opposite the free car park.

Families and groups discount
Up to 10% discount on the total amount of your booking.


Secure Payment
Information? Contact us ...
+33 (0)4 92 46 28 32
1, route de Pré Long
05240 La Salle les Alpes, Serre Chevalier 1400
FRANCE